Each week, I rank the teams in the SEC 1-14. This week, Leonard Fournette became the football version of Vince Carter, visors are thrown, and we start to understand just how weird this season is going to be.
1. Ole Miss Rebels
Brilliant work by the Rebel Alliance to infiltrate the Alabama Death Star and come away with a clear-cut victory and yes this is just an excuse to post the Nick Saban as Darth Vader photoshop again.
2. LSU Tigers
Leonard Fournette is the running back version of Vince Carter and this is his 2000 Olympics dunk. He is must-see television anytime the ball is in his hands.

3. Georgia Bulldogs
Huge win for the Dawgs against a hated rival in Steve Spurrier, but Georgia will be handed a decisive defeat this weekend when Southern University and the Human Jukebox come to Athens.
4. Alabama Crimson Tide
First the loss to Ole Miss, now Alabama has to face Louisiana-Monroe, who the Tide are winless against in two tries. No, that's not a joke. Alabama lost to the Warhawks in 2007 (Saban's first year) and had their 2006 victory vacated. College football: things rarely make sense!
5. Texas A&M Aggies
Not even going to lie and pretend that I watched them play Nevada.
6. Tennessee Volunteers
Western Carolina just couldn't Catamount any consistent offensive attack In Knoxville. Wonder if Florida will be able to open the Tennessee defensive Gator not. Thank you for reading that joke, it will cost you eleven cents.
7. Mississippi St. Bulldogs
As good as this team may be, Dan Mullen's squad probably needs a win over Auburn this weekend to make a bowl game. Such is life in the SEC West.
8. Florida Gators
Technically defeated Kentucky, which gives them this spot in the rankings, but were definitively outplayed by the Wildcats. With star cornerback Jalen Tabor suspended for Saturday's game, it would be surprising to see the Gators extend their winning streak over Tennessee.
9. Missouri Tigers
In our current cynical cultural climate, we throw around the phrase "almost incomprehensible trash" far too often but, yeah, that's what Mizzou's 9-6 win over Connecticut was.
10. Kentucky Wildcats
Let's ignore blowing the game against Florida and celebrate something the Wildcats did right this week. Namely, inducting Jared Lorenzen (my favorite college football player of all time) into their Athletics Hall of Fame.
11. Auburn Tigers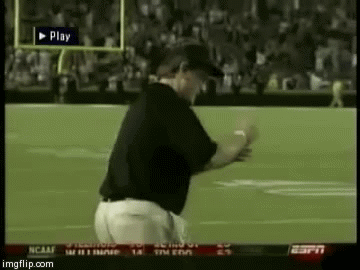 And now for an incredibly sad rendition of South Carolina's national anthem, "Sandstorm":
HA, MORE LIKE SADSTORM, AM I RIGHT?
13. Arkansas Razorbacks
Bret Bielema, we need to talk. You just got put on blast by Ryan Gosling.
Ryan Gosling. Bret, Ryan Gosling was an absolute liability at cornerback for T.C. Williams High School in Remember the Titans. That's who just made you look worse than Meek Mill, Bert.
14. Vanderbilt Commodores
In case you were wondering just how bonkers this season could get, Vanderbilt has players leading the entire conference in total offense (quarterback Johnny McCrary) and receiving yards (Trent Sherfield). Move on over 2007, because #TeamChaos is here.